Summer Activities in Taos Ski Valley
Summer is a great to visit the Taos area lots of outdoor activities and sites to see for the whole family. Here is a sampling of things to do and places to visit for summer activities in Taos and Taos Ski Valley, New Mexico, along with direct links to additional information or businesses. If you have any questions about these or other area attractions, feel free to call us for answers or more information.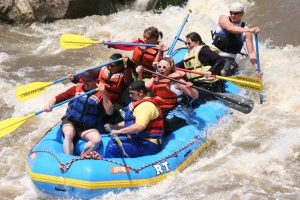 White Water Rafting– When the snow starts to melt, water streams in from Colorado and the nearby Sangre de Cristo mountain to keep the waters of the mighty Rio Grande flowing. Taos area rivers provide whitewater opportunities for everyone from the first time rafter who just want to get their feet wet to adrenaline junkies who want more challenging river experiences; trips range from a few hours to a few days.
Far Flung Adventures
Cottam's Rio Grande River Trips
Los Rios River Runners
Horseback Riding- Come ride gentle horses with friendly, knowledgeable guides in the Land of Enchantment. Appropriate for the whole family, there are horseback trips in Taos Ski Valley ranging from one hour on beautiful mountain trails to all day trips above timberline. You can even go on a llama trek in the Sangre de Cristos or into the Rio Grade Gorge areas.
Rio Grande Stables (in Taos Ski Valley)
A.A. Taos Ski Valley Wilderness Adventures (in Taos Ski Valley)
Cieneguilla Stables (in Pilar) Taos Indian Horse Ranch – 575-758-3212 (in Taos)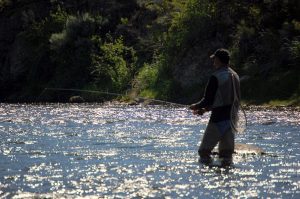 Fishing– Northern New Mexico and Southern Colorado are hosts to a wealth of healthy mountain streams and rivers with tremendous opportunities to find a variety of species of fish on private and public waters while fishing in Taos, New Mexico.
Taos Fly Shop and Streit Guide Services
Tailwater Gallery and Fly Shop and The Solitary Angler Guide Service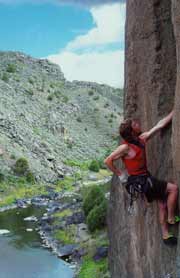 Rock Climbing- Mountain Skills Rock Climbing Adventures offers guided climbing and instruction for all skills levels throughout northern New Mexico- from rock climbing Taos Ski Valley to the Rio Grande Gorge. If you are a first time beginner wanting to experience rock climbing New Mexico in a safe professional setting; or you're an intermediate to expert rock climber looking to hone your skills, climb a classic New Mexico multi-pitch rock climb, beat the crowds, put up first ascents, or sport climb at your limit. The professional staff at Mountain Skills Rock Climbing Guides can take you to the perfect New Mexico rock climbing area for your ability level and give you a skill and/or memory to last a lifetime.
Hiking

Hiking is one of the most popular summer activities in Taos Ski Valley, New Mexico, especially in Carson National Forest (www.taosskivalley.com/pages/play/summer-activities/Hiking/)
Guided hikes with a naturalist/ medicinal plant tours in the Wheeler Peak Wilderness Area (Taos Ski Valley) with Oso Negro Guide Service (575) 776-1628
Summer Chair Lift Rides in Taos Ski Valley- Taos Ski Valley's easiest and most relaxing way to escape the heat and enjoy the mountain scenery. Take in the spectacular views, blue skies and clear mountain air while riding the chairlift. At the top, experience unobstructed views of alpine peaks and abundant wildflowers. Open seasonally Thursday through Monday from 10-4:30. (For more information, go to http://www.skitaos.org/)

Frisbee Golf in Taos Ski Valley- It's Disk Golf – test your skill, keep the score, enjoy the views and spend a day in the mountains. Located around the base area and on Strawberry Hill this is a great way for the whole family to get together and try to outdo each other. Play is FREE and Rental discs are available at Taos Ski and Boot at the base of Lift #1. Disk Golf is open daily from June 21st until Oct 1st. (For more information, go to http://www.skitaos.org/)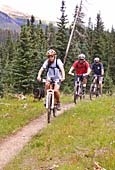 Mountain Biking– The Taos area has some of the country's most spectacular biking from classic road rides over mountain passes to mountain bike trails to the area's highest peaks. There is now a recreation area dedicated to mountain biking complete shuttles as well as a number of well documented rides in the mountains with guides and shuttles available from area bike shops.
Northside at Taos Ski Valley– Come ride your mountain bike at Taos Ski Valley's only approved summer recreational area, and some of the best alpine mountain biking anywhere. Explore approximately 25 miles of single-track trails and old grass covered two-track roads through beautiful stands of evergreen forest, expansive groves of aspen, and grassy meadows with spectacular views, all available by private land access permit. The terrain is best suited for the intermediate and higher level rider. With their new Shuttle Service though, you can bypass the first two or three miles of climbing and enjoy more of the mountain!
Bike Shops and Rentals
Ballooning- Gently gliding on the soft desert winds into the Gorge in the basket of a colorful hot air balloon, with the Sangre de Cristo Mountains as a backdrop, this is the premier hot air balloon flight of the state of New Mexico. From snow covered mountains in the Winter, baby coyotes and deer in the Spring, blossoming flowers, bushes and cacti in Summer to colorful Fall foliage — there is ALWAYS majestic beauty everywhere! FAA certified pilots are personable and entertaining, making even the drive to the Gorge fun.
Pueblo Balloon Company (575) 751-9877
Paradise Balloon (575) 751-6098
Scenic Railroad– The Cumbres & Toltec Scenic Railroad was originally constructed in 1880 as part of the Rio Grande's San Juan Extension, which served the silver mining district of the San Juan mountains in southwestern Colorado. Today you can ride this historic railway over scenic Cumbres pass, past historic buildings, over raised trestles, through the Toltec Gorge and past abundant wildlife- it is an experience not to be forgotten. Self-guided tours of the railroad yards available.
Kids & Family Activities & Programs– The Taos area is full of great things for kids and the whole family. The natural landscape provide many outdoor opportunities as does Taos' rich culture of arts and crafts. This section provide information on a number of great things to do with kids.

Field Institute of Taos– Based in Taos Ski Valley and utilizing the local outdoor environment, the Field Institute of Taos offers exciting summer camps and after-school mountain bike sessions that focus on adventure, natural sciences, and local culture for children from first grade and up. F.I.Taos offers camp sessions focused on hands-on learning experiences. Each of the one and two week day camp sessions, focuses on several different themes (archeology, river ecology, wildlife biology, orienteering, etc.) exploring each theme and our surroundings through hikes, field notes and drawings, organized activities, art projects, and games.
The Jillana Ballet School– The Jillana School is an intensive summer program in Taos Ski Valley, directed by Jillana, authorized teacher of the Balanchine Technique & Balanchine Style, and is fashioned for the young pre-professional.
Pottery Classes at Taos Clay Studio
Kit Carson Park– Kit Carson Park and Historic Cemetery is located 1 ½ blocks north of Taos Plaza at 211 Paseo Del Pueblo Norte. This 19 acre park features a ¾ mile walking and jogging track around the perimeter. The park provides multipurpose courts for tennis and basketball as well as three baseball fields. There are also large open fields suitable for soccer, frisbee and just relaxing. Kit Carson Park also has a playground for children ages 2–12 as well as ample picnic and barbecue areas throughout the park. Kit Carson Cemetery is over 150 years old and is the final resting place of Kit Carson, Padre Martinez Governor Bent, Mabel Dodge Luhan and other prominent Taoseños. Amenities include a walking/jogging trail, two fields for soccer practice, two little league ball fields, one t-ball field, one picnic shelter, a bandstand, several picnic areas, basketball court, and a tennis court. Hours: 7:00 AM to 8 PM daily during the summer.
The Hardwood Museum of Art Kids Programs
Tennis & Golf
Swimming- If the refreshing waters of the Rio Grande are too cold for you, there are a number of options for swimming in Taos during the summer. Whether for recreation or training, the most popular options are listed below.
Taos Pueblo– Taos Pueblo, located in Taos at the base of the sacred Taos Mountain, is the only living Native American community designated both a World Heritage Site by UNESCO and a National Historic Landmark. The multi-storied adobe buildings have been continuously inhabited for over 1000 years and the architecture of Taos Pueblo actually inspired "Pueblo Architecture" as it is known today. Taos Pueblo offers self-guided and guided tours of the Pueblo daily from 8am to 4:30pm, except when tribal religious activities require a closure of the Pueblo. More than 40 shops and galleries showcase Taos Pueblo artists. Admission and camera fees are required when you visit.
Exercise Facilities
Spa Services
Area Museums– Taos offers the history and art enthusiasts a great number of museums which shine light on the area's rich late Spanish Colonial and artistic histories. Among the more popular museums in Taos are:
Art Galleries– Art permeates nearly every aspect of life in Taos. From the living art of sunset on Taos Mountain to paintings for sale in nearly every restaurant, art in all its forms can be found just about everywhere in Taos. The center of the city of Taos has over 100 quality art galleries and museums displaying a wide variety of disciplines. The magic light and a long history of famous local artist have long made Taos a mecca for artist and art collectors alike. Many famous artists both past and present have made Taos their home and the plethora of present day galleries and art museums are a testament to Taos' rich history of art and artists. While there are too many to list individually, an afternoon spent walking around the center of Taos will provide the opportunity to visit a wide variety of art galleries.
Recreation Areas and Other Attractions
Scenic Drives– While there is no ugly way into or out of Taos, some area routes are more beautiful than others.
Native American Sites
Cooking Classes– Chef Chris Maher offers a range of cooking classes, private cooking parties, and wine tastings through the year in Taos. For information about regularly scheduled offerings or to contact him for custom classes or services, please contact Cooking Studio Taos.
Casinos