Special Offers
Rates & Offers
For rates and availability, please click here to search for availability and associated rates. You are also welcome to call our reservation department any time for assistance and for custom package quotes.
Extended Stay Discounts
Note that for some periods discounted rates will be available based on the number of nights desired. Stays of 5 or 6 nights may be entitled to a 10% discount and while stays of 7 nights or more will receive a 15% discount on standard rates.  For longer stays, we suggest you contact our reservations staff for a custom quote.
Minimum Stay Requirements
Note also that minimum stay requirements may impact the units shown for your search criteria. Typical minimum stay requirements are 2 nights between April and mid-November and 3 nights during the winter ski season (between Thanksgiving and the 1st Sunday in April).  Additional minimum stay requirements are as follows:
4-5 nights: December 15th-25th,
7 nights: December 26th to January 2nd,
4 nights: February 15-22,
and 6 nights between March 11-20.
Shorter stays may be available but may not show up on searches. Please call the property for availability for shorter stays than the requirements presented above.
Special Offers/Events
Call today for a custom package and information for extended stay discounts or review a few options below.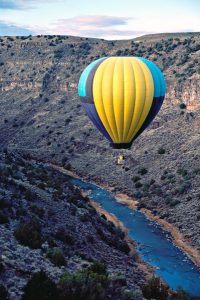 Taos Gorge Balloon Special: Come for a weekend getaway to the "Balloon State" and enjoy two nights in an Edelweiss hotel room and an exciting balloon trip over and into the Rio Grande Gorge followed by a champagne breakfast, all for as little as $375 per person (taxes included). Ballooning is available in the winter too!
Ski Week Specials: Try one of Taos Ski Valley's famous ski week packages with 6 days of lessons at the famous Ernie Blake Snowsports School for as little as $1,450 per person depending on the unit type and season (double occupancy with all taxes included). Sample package price includes lodging for 6 nights, 6 day adult lift tickets, and ski week lesson packages for two adults in a hotel room.
Call for more information or to further customize a package with meals and/or spa services that best fits your needs.
Click here to learn more about discounted lift tickets and equipment rentals.